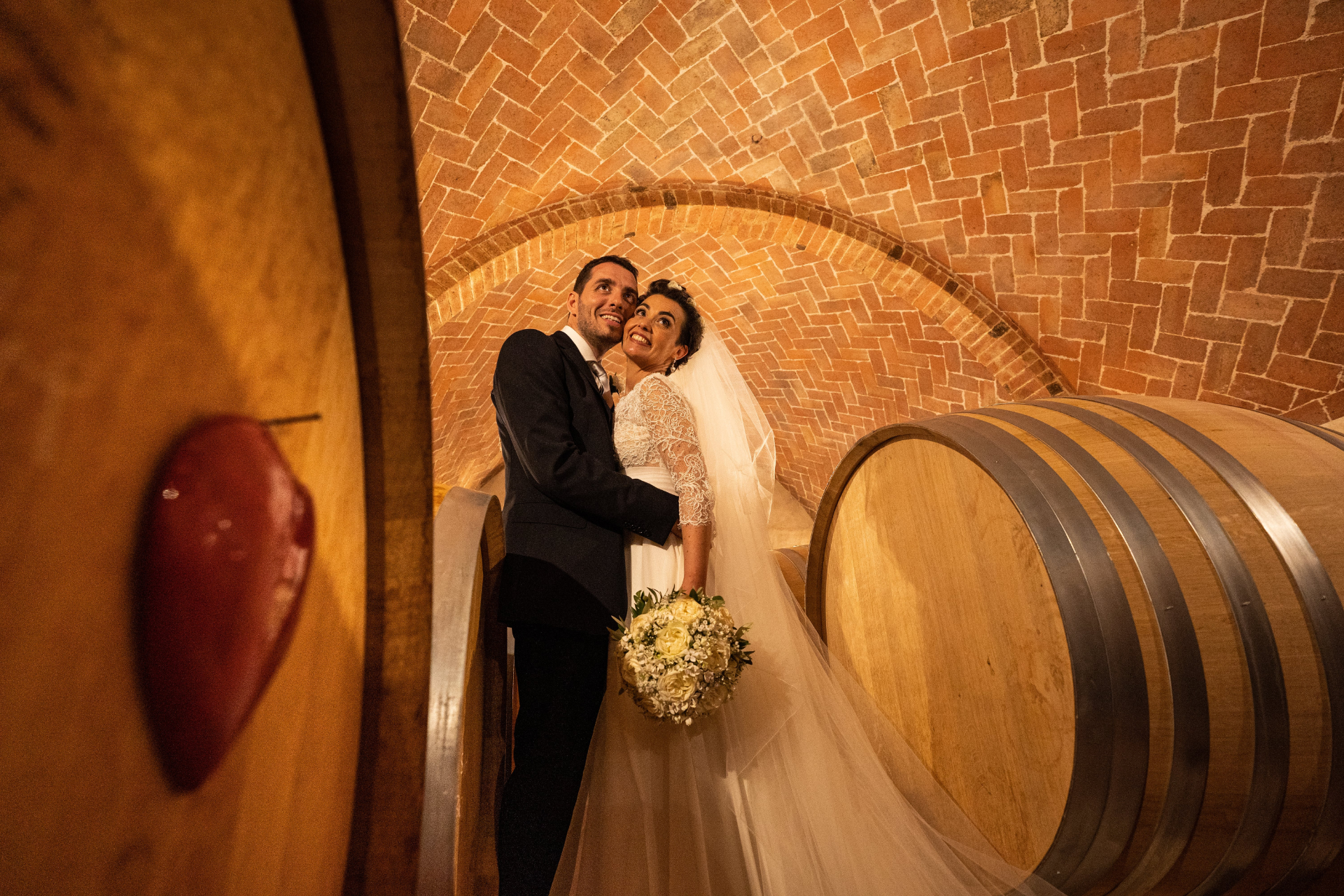 Winery wedding: an unusual location for a joy-filled ceremony
Are you a lover of life's pleasures and out-of-the-ordinary experiences? Are you looking for an original location for your wedding day? Well then, we at Wedding in Valdichiana can't help but propose to you a winery in our territory, the Valdichiana Senese, a land rich in precious vineyards and evocative
wineries! Here are 5 good reasons why you should choose it…
LOVE AND WINE: if one of the passions that most unites your couple is that for wine, one of the many wineries in Valdichiana could be the ideal place to spend the most romantic and important day of your life. By doing so, you will unite your love with your passion for wine, saying your fateful
yes and celebrating your union in the perfect setting of a beautiful Tuscan winery!
SENSORY EXPERIENCE: choosing a winery as the location of your wedding also means living authentic experiences, thanks to the organization of real sensory tours: you will be able to taste a good glass of wine, smell its fragrance and learn its characteristics. You will also be able to wake up in the morning with a breakfast in the vineyard, have a snack with the winemaker and a cutting board of typical Valdichiana products and finally end the day with a Tuscan dinner in the vineyard.
AUTHENTIC AND EVOCATIVE LOCATION: Tuscan wineries, in addition to being home to some of the most famous wine labels in the world, are truly original and striking places to hold your wedding party. The wineries will envelop the bride and groom and their guests in the special scents of must and wood from the barrels. The dimmed lights (because wine likes to rest in the twilight) will make the atmosphere even more evocative. Guests will be fascinated by the sommeliers' stories and the carefully designed menu paired with the wines, which will turn the meal into a true experience.
VARIETY OF STYLES: Tuscany has a large number and variety of wineries. There are older wine cellars with a stone architectural structure reminiscent of the time in which it was built, ideal for those with a more traditional taste, or the more recent ones, for the newlyweds who love modernity. Arrangements can be truly endless and, as a rule, will favor informality, such as vine branches and candles made from the bottoms of glass bottles.
VERSATILITY OF SEASONS: the wine cellar is undoubtedly one of the most versatile wedding, adaptable to every season. It will certainly be perfect in fall and winter, as these periods coincide with the grape harvest and wine bottling, so it offers the chance to experience and breathe in the Tuscan wine traditions.
At this point all that remains is for you to choose from our wedding proposals, designed to give you the wedding of your dreams. Get inspired… And if you don't find what you are looking for, we can customize our offers according to your wishes. Contact us!