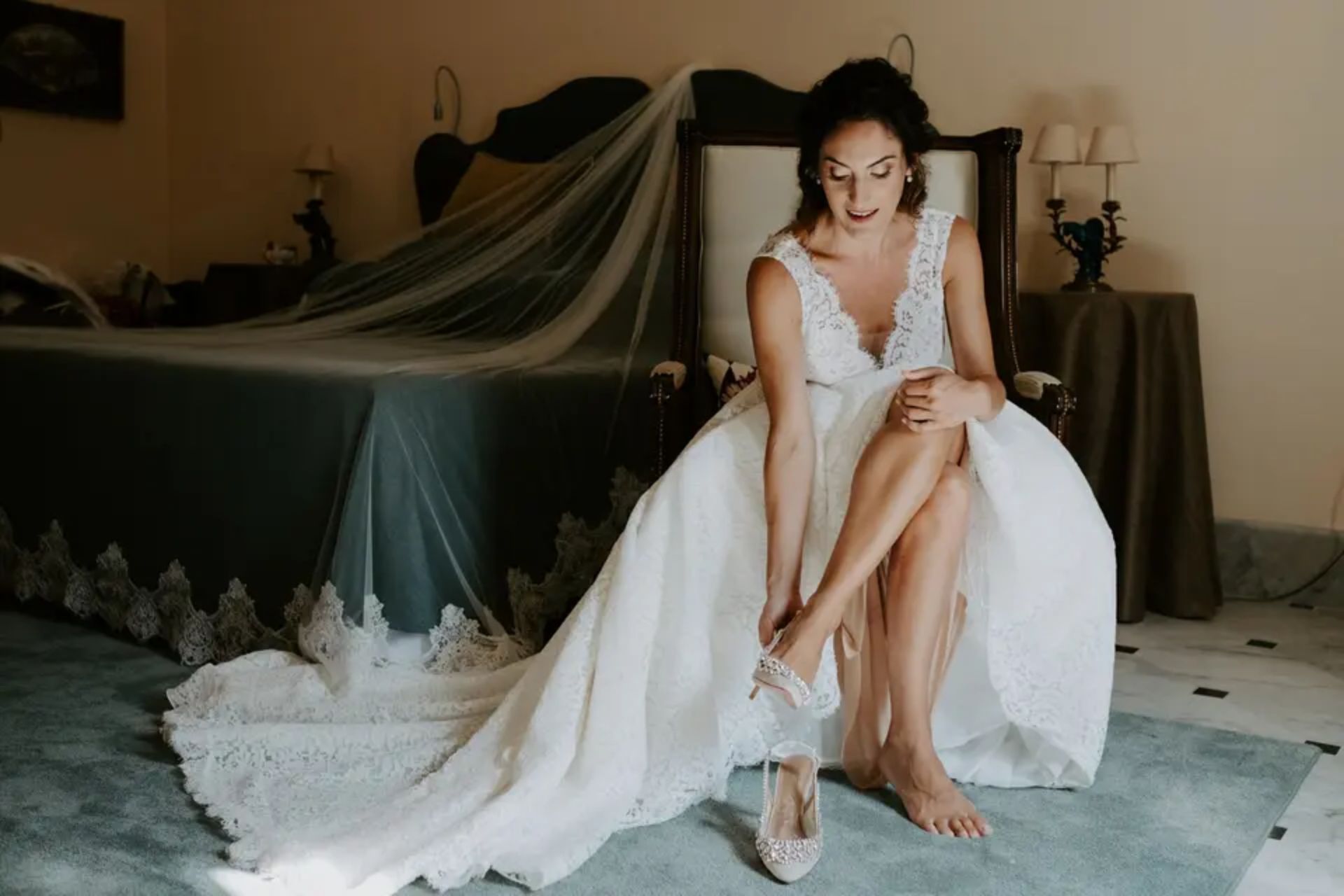 Bridal Shoes: 5 Tips for Not Going Wrong
It goes without saying that the shoes you will wear on the most important day of your life are a fundamental detail of your Bridal Look, they will have to make the difference and be, not only gorgeous, but also super comfortable. Whether they are made-to-measure or purchased at the atelier, the important
thing will be the end result: to arouse the envy of all the guests! of course, this is a joke.
So here are some practical tips to keep in mind once you decide to take the plunge and find yourself choosing the perfect ones for your wedding dress!

1. TOTAL LOOK: wherever you decide to go to choose the shoes of your dreams, always take a sample of the fabric of your wedding dress with you, it will be a point of reference for finding the right shade of colour, staying on the same tone and completing the total look with harmony. Don't forget to take them to the atelier to adjust the hem of your dress to the cm of your heel.

2. COMFORTABILITY FACTOR: the first element to test when wearing a shoe is its degree of comfort. If you feel any strange discomfort immediately, it could be an indication of a foot ache that will accompany you throughout the wedding day. For lovers of high heels, it is suggested to consider gel pads to be inserted under the sole of the foot or to join the penultimate two toes with a fleshcoloured adhesive plaster. If, on the other hand, you don't want to 'suffer' and are looking for more comfort, you could opt for ballet flats, square heels or wedges, depending on the season.

3. AESTHETIC FACTOR: another super important element is clearly the aesthetic one. It is essential, in fact, to choose a type of shoe that is not only beautiful, but also suited to your style, that of the party and your physicality. The rules of bon ton suggest closed shoes of the same tone as the dress, the heel should be
medium and should not exceed the groom's height. Finally, if the dress is very ornate and has flashy details, the shoes should be as simple as possible, vice versa for minimal dresses, you can consider a jewelled shoe.4. TRAINING: after buying the shoes, try wearing them at home every day for a few hours to make them as soft and comfortable as possible on the wedding day.

5. PEDICURE: a refined pedicure in neutral colours is a must for any bride, especially for those who opt for sandals or open shoes.

…. it's your turn now! We are sure you will make the right choice and look wonderful. If you like, subscribe to our newsletter to keep up to date…every new follower is a great joy for us!